Mancelona Township welcomes Kevin Graham to the staff, serving as Cemetery Sexton and Deputy Treasurer. Kevin joined us in May, 2018 following the retirement of long-time sexton Roger Anger.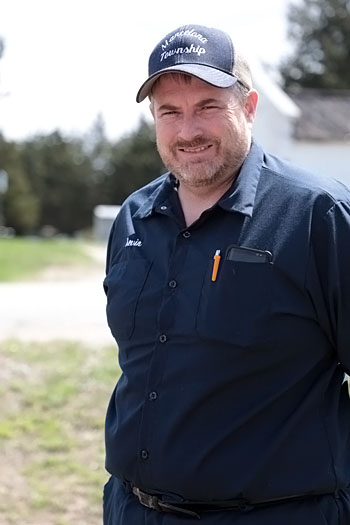 If you have questions regarding the cemetery, rates or service, please email Kevin via the contact page.
Our township is grateful for the many years of service and dedication from Roger, and we wish him the best in his retirement!
IMPORTANT: As of July 1, 2014, if your winter tax bill is less than $100, you will only receive one tax bill in the summer. Therefore, your total bill will be issued on July 1 and due by September 14 (without interest) for the current tax year. You will not receive a bill in the winter.
You may begin paying your Summer taxes on July 1, 2018 through September 14, 2018. After this date, interest accures. February 28, 2019 is the last day to pay at Mancelona Township Offices. After this date, your late tax payments must be paid at Antrim County Treasurer's Office, 231-533-6720.
Spring Clean-Up Day in Mancelona Township is set for Saturday, May 19, 2018
Time: 7:00 a.m. to 12:00 p.m.
Elections dates for 2018 are posted below. Polls are open 7:00 a.m. to 8:00 p.m. at Mancelona Township Hall. Please remember to bring a driver's license or Michigan identification.
If you are not yet registered to vote, you must register at least one month prior to the election! Applications are available at Mancelona Township Hall and the Secretary of State offices.
Mancelona Township Offices located at 9610 S. M-88, Mancelona (approx. 1/4 mile west of West Limits / Cedar River Road intersection).
Your dog license may be renewed at Mancelona Township Offices when you are paying your Winter taxes. Dates are December 1 through February 28, annually. The fee is $5 for one year, or $12 for three years. Please have your papers (proof of rabies) with you.
After February 28, fees increase and are payable only at Antrim County Treasurer's Office in Bellaire, 231-533-6720.
Mancelona Township welcomes Valerie Vernier as the new director of the Mancelona Senior Center. Valerie is employed by Antrim County Commission on Aging.
Hours of the Senior Center are 8:30 a.m. to 1:30 p.m. Monday through Friday.
She will be coordinating events for the senior citizens of Mancelona area.
Mancelona Township Board of Review will be meeting in March, 2018 for the purpose of tax assessments.
If you plan to attend the meeting, please bring documents to support your assessment change.
Please call in advance to set up an appointment. 231-587-4737 (assessor's office)
Dates and times will be announced when they become available.
2018:
March 12, 2018 from 9:00 a.m. to 3:00 p.m.
March 13, 2018 from 3:00 p.m. to 9:00 p.m.
Location: Mancelona Township Offices
9610 Highway M-88, Mancelona
EDUCATIONAL PROGRAMS
Every Tuesday at 3:30 p.m. there is a story and craft time in the lower level of the library.
For additional information on these events please call 231-587-9451.
Did you know the Mancelona Township Offices is the location for recycling in our area? Paper/Cardboard items (such as boxes, newspapers, magazines, catalogs, glossy print items, office paper, junk mail, phone books, shredded paper, juice and milk cartson) are all accepted. Plastic jugs, jars, tubs, trays, water bottles, milk jugs, shampoo bottles, laundry detergent containers and clean plastic grocery bags can be dropped off in the recycle bins. You may also drop off glass containers and bottles of all colors, and completely empty food jars of all sizes. You may also recycle aluminum and steel cans, and aluminum foil.