The Mancelona Township Library is located at 202 West State Street in downtown Mancelona, across from Mortensen Funeral Home.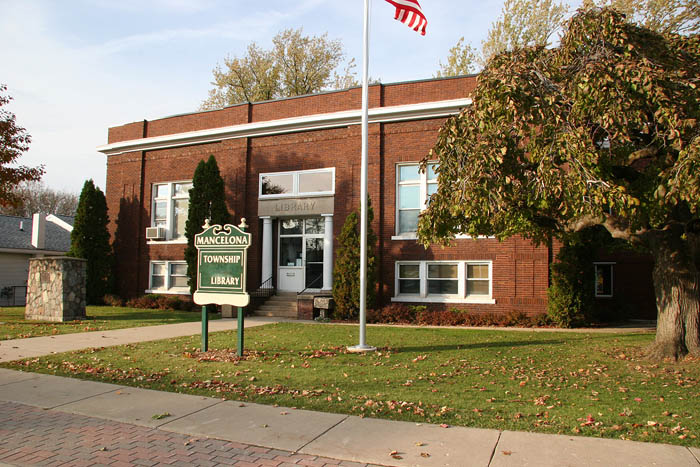 CONTACT

Mancelona Township Library
202 West State Street
P. O. Box 499
Mancelona, MI 49659

Phone: 231-587-9451
Librarian: Kathy Pintcke

HOURS
Monday through Friday - 10:00 a.m. to 6:00 p.m.
Saturday - 10 a.m. to 12:00 p.m.
Sunday - closed
LIBRARY CARD
Resident eligibility requirements 18 years of age or older: All resident applicants must reside in Antrim County within the Townships of Mancelona and Custer to be eligible for a resident library card at no charge.
All other applicants:
Yearly fee - $20.00 per household.
Must be in good standing at your home library.
A valid Michigan Driver's License or State ID card with current address must be presented and a library application card completed.
A maximum of one item at a time may be checked out during a 30-day probationary period. The probationary period will be extended if materials are not returned on time. The library must be notified of any address and/or phone number changes. Library cards can only be used by the person the card is issued to.
Lost or stolen cards should be reported immediately to the library.
Juvenile library card – 17 years of age and under: Legal parent/guardian must be present and meet eligibility requirements.
CIRCULATION
Usual borrowing period is two weeks for books, one week for DVD's. You may request a printed receipt of current items checked out and balance on account for your records. New releases, DVD's, and reserved materials cannot be renewed. All other materials may be renewed one time. Renewals may be made in person or by phone during regular library hours.
FEES AND FINES
There are fees and fines for overdue, damaged or lost items.
INTERNET/WIFI
WiFi is available. Mancelona Township Library has eight stations available to the public for internet access. The set-up provides a quiet, spacious area for patrons to work while using the computers.
This policy is subject to change and the Library Director may use discretionary measures when necessary.