CEMETERY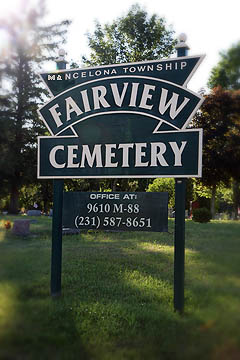 Mancelona Township Fairview Cemetery is located at the intersection of State Street (M-88) and Cedar River Road.

Contact the Sexton, Kevin Graham or Assistant Shawn Fleet

FLOWERS - Mancelona Township cemeteries are visited during the Memorial Day parade each year. We suggest flowers be placed at your loved one's grave beginning one week prior to Memorial Day to help create a comforting and peaceful setting. Flowers and other items left at gravesides should be removed on or before October 1 of each year. The grounds committee will clear the cemetery after that date, and anything left will be disposed of. Thank you.
RATES -

Grave spaces: $350

Adult Grave Opening:
Monday-Friday: $350
Saturday - $400
Sunday & Holidays: $450

Child Grave Opening:
Monday-Saturday: $200
Sunday & Holidays: $350

Cremation Opening: **
Monday-Friday: $150
Saturday: $225
Sunday & Holidays $500
** Normally, cremation burials will take place Monday through Friday, 8:00 a.m. to 3:00 p.m.
Families wishing to have a cremation burial on the weekend are required to call ahead of time to check availability. An extra charge will apply.
Adult Disinterments:
Monday-Saturday $350
Sunday & Holidays $450

Child Disinterments:
Monday-Saturday $200
Sunday & Holidays $350

Storage: $100