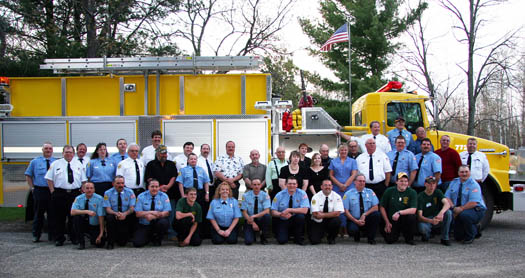 MANCELONA FIRE DISTRICT:
Fire Chief: Chris Orman
Asst. Fire Chief Station 2: Dave VanderPloeg

* Applications being accepted for Station 1 and Station Volunteer Firefighters. Inquire with Fire Chief.
FIRE DISTRICT LOCATIONS:


The Mancelona Fire District consists of two stations.

• Station One is located on West Limits Road in Mancelona Township (phone 231-587-5311)

• Station Two is located in Lakes of the North next to the airport on Pineview Drive (phone 231-585-6262)
Station One: NON Emergency - 231.587.5311
Chief Chris Orman Mobile: 231-715-9433

When reporting a fire or emergency, always use 911. Using 911 assists Dispatch to locate your home much faster.
Mancelona Fire District covers 95 square miles.
Mancelona Fire District is dedicated to educating the public about fires, how they occur, and what measures can be taken to help reduce the risk of structure fires. Annually, our local fire fighters visit Mancelona Elementary School during National Fire Prevention Week to talk to children about fires, what to do if their home catches on fire, and how they can think and act smart to avoid starting a fire.
It's not all work for our firefighters! They are active in the Mancelona community and coordinate special events for the locals. During the summer, a family day is held at Palmer Park in the Village of Mancelona. The Fire District provides lunch for all who attend, and firefighters host a number of games for kids and adults, including truck pulls, relays, and a water ball battle contest.
On Halloween, trick or treaters, ghosts and goblins gather at Station One for loads of spooky fun. Snacks are provided, lots of games, and great music entertainment by a D.J. A haunted house creatively decorated with skeletons, cob webs, cool lighting and scary sounds awaits the fearless who dare walk through. There is no charge, and all are invited to attend.
When called upon, the fire department volunteers help out at numerous community events, including the White Pine Stampede, educational programs at the Middle School and Elementary School, safety at the snowmobile drag races, fireworks displays. They are a proud group, and happily volunteer their services.

Mancelona Fire District and the firefighters are commited to serving the Mancelona Township residents. Their presence, at both on- and off-duty levels, is a valuable asset to Mancelona.