Places to Visit
DEADMAN'S HILL OVERLOOK -

GPS: 45.02782N, -084.56309W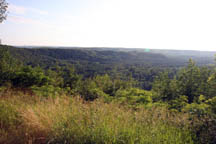 The period of early logging in the hills of the Jordan River Valley were marred by several fatal accidents.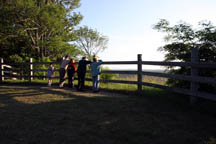 The last known and best recalled tragedy took the life of twenty-one year old Stanley Graczyk, known as "Big Sam." A fun loving lumberjack soon to be married, Sam became legend on May 20, 1910 when he was killed while driving a team and big wheels loaded with logs down a steep slope at this site. The high point, with its commanding view of the valley, has since been known as "Deadman's Hill."

A pathway along the wooden fence provides visitors with a variety of angles and locations to view the valley below. When the sun is just right, the Jordan River waters below will sparkle and catch your eye.

The Jordan Valley below is an 18,000 acre block of state owned forest land, located in the northeast portion of Antrim County. An 18-mile long hiking trail, containing several loops of varying lengths, makes its way through the valley. A variety of wildlife, flowers and trees can be observed in this beautiful area.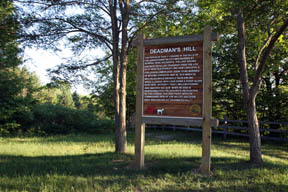 While beautiful year-around, this is one location your fall color tours must include. Picnic areas are available throughout the Jordan Valley, and public restrooms (pit toilets) are located near the parking lot.

Hunting and fishing are permitted in the state owned areas.