WETZEL LAKE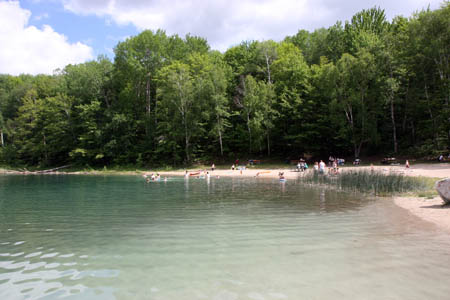 GPS: 44.93011 N, -84.99578 W

Wetzel Lake is a popular swimming location for locals. To access, take US 131 north of Mancelona to Wetzel Lake Road, then turn east.The road dead ends at Wetzel Lake.

Wetzel Lake is currently a day park offering visitors serene surroundings, picnic spots and swimming. Non-motorized boats only are allowed, with some exceptions.

Located on state forest land, the park is operated jointly by the Township of Mancelona and the County of Antrim, who provides assistance from the Antrim Conservation District in partnership with the Michigan Department of Natural Resources. Wetzel Lake is open May through October, morning to dusk.

For additional information about Wetzel Lake, please contact the Township of Mancelona, 231-587-8651.
JORDAN RIVER VALLEY and PINNEY BRIDGE
GPS: (Bridge) 45.00845N, -085.01804W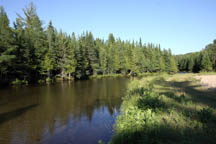 Mother Nature fit a whole lot of beauty here! Several dirt roads wind through scenic Jordan River Valley, with the main one running for US 131 to M-66. Start on US 131 one mile north of Deadman's Hill Road. This fifteen mile scenic road parallels the Jordan River from its headwaters along its path through the valley to Pinney Bridge, at which point the road continues west, to exit at Highway M-66.

Seasonally, the area provides fishing, berry picking and morel mushrooming. Your visit to the valley could easily be made into a day trip, depending on how often you get out of the car to explore. Be sure to include stops at the Fish Hatchery and Deadman's Hill.

Consult your local Antrim County map for the location of Marsh and Cascade Roads. Enjoy the waterfalls along Cascade Road. Jordan River Valley is accessible by car spring through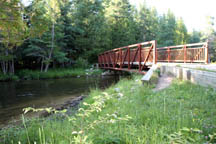 fall. The area is a haven for snowmobiles in the winter.

Along the seasonal Jordan River Road, you'll see an entrance to the Jordan River National Fish Hatchery, which is accessible by snowmobile in winter. The hatchery leaves its doors open 24 hours a day, 7 days a week, for snowmobilers to use restrooms in the Welcome Center. The coffee pot is always on!

This back entrance is also open to vehicular traffic seasonally. (Another article on this Website provides details on the Jordan River National Fish Hatchery)
DEADMAN'S HILL OVERLOOK -

GPS: 45.02782N, -084.56309W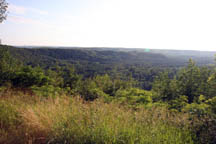 The period of early logging in the hills of the Jordan River Valley were marred by several fatal accidents.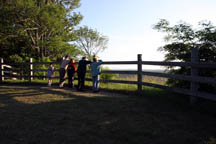 The last known and best recalled tragedy took the life of twenty-one year old Stanley Graczyk, known as "Big Sam." A fun loving lumberjack soon to be married, Sam became legend on May 20, 1910 when he was killed while driving a team and big wheels loaded with logs down a steep slope at this site. The high point, with its commanding view of the valley, has since been known as "Deadman's Hill."

A pathway along the wooden fence provides visitors with a variety of angles and locations to view the valley below. When the sun is just right, the Jordan River waters below will sparkle and catch your eye.

The Jordan Valley below is an 18,000 acre block of state owned forest land, located in the northeast portion of Antrim County. An 18-mile long hiking trail, containing several loops of varying lengths, makes its way through the valley. A variety of wildlife, flowers and trees can be observed in this beautiful area.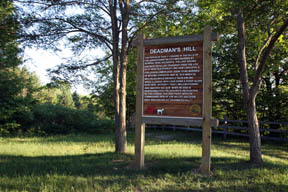 While beautiful year-around, this is one location your fall color tours must include. Picnic areas are available throughout the Jordan Valley, and public restrooms (pit toilets) are located near the parking lot.

Hunting and fishing are permitted in the state owned areas.
JORDAN RIVER NATIONAL FISH HATCHERY
The Jordan River National Fish Hatchery is open 7 days per week. During normal business hours, staff is on-site and will gladly take your group on a tour of their facility.
The hatchery, which specializes in the rearing of lake trout, is under the direction of the U.S. Department of the Interior's Fish and Wildlife Service. It is located in Antrim County in the northern portion of the lower peninsula of Michigan. The facility is comprised of 116 acres which was purchased from the State of Michigan for $1.00 for fish culture. The hatchery was constructed in 1962.
Water is supplied to the hatchery by two springs (named Five Tile and Six Tile) that produce approximately 5,000 gallons per minute. The entire production of this hatchery is dedicated to stocking lake trout into the Great Lakes, primarily Lakes Michigan and Huron. The long term goal is to establish a self-sustaining lake trout population.
The hatchery annually propagates approximately 1.85 to 2.0 million yearling lake trout and transfers up to 900,000 fingering lake trout to the Pendills Creek National Fish Hatchery, Brimley, Michigan. Typically 1.2 million fish are released into Lake Michigan and 900,000 in Lake Huron by the Motor Vessel Togue.
The hatchery is located in the beautiful Jordan River Valley and is a popular stopping point during fall color tours and winter snowmobiling. The hatchery is open to the public seven days a week. Staff is on duty from 7:00 a.m. to 3:30 p.m. daily. Access to the hatchery is from US-131 at Turner Road and also from the Jordan River Road. For further information or to schedule a tour, please contact the hatchery at 231-584-2461.